The demand for automobile filters in China will reach 1.2 billion by 2018
October 14, 2021
Up to now, China's vehicle ownership has exceeded 130 million, and by 2020 China's auto production and sales will still maintain rapid growth, which means that China's auto parts companies in the auto aftermarket of major markets will continue to benefit from the increase in car ownership. Bring opportunities. Specific to the filter industry, the industry market will maintain a growth rate of more than 15% with the continued increase in the number of possessions, and the size of the filter in China's auto aftermarket will further expand after three years.

The demand for automobile filters in China will reach 1.2 billion by 2018


Replace at least 5 filters (2 oil filters, 1 air filter, 1 gasoline filter and 1 air filter) per vehicle per year, based on 120 million car ownership base in 2012 In 2012, the market demand for automotive filters in China is more than 600 million. Calculated in accordance with the total consumption of 120 filters for 5 filters, the filter market in China in 2012 was close to 15 billion yuan.

Foreign authoritative organizations predict that by 2020 China's auto production and sales will still maintain a growth rate of more than 13%, which means that China's car ownership will further increase. According to the current growth rate of car ownership, China Automotive Industry Association predicts that by 2018, the demand for automotive filters in China will reach 1.2 billion. According to the demand for five filters per vehicle and the consumption amount of 120 yuan per year, the market size of the filter in China will be close to or even exceed 30 billion yuan by 2018.

Faced with doubled growth in market size, is China's filter industry company ready again?

Filter industry shuffle began to change the pattern of the industry


This year, the old brand of Suzhou Leiguan has already closed down, the industry famous brands Yi Benma and Bao Jie also encountered a bottleneck in development. Some small and medium-sized filter enterprises are even more unsustainable. It seems that shouting for many years of industry reshuffle really Started. In this reshuffle process, some companies with strength and potential and advantages will surely come to the fore, and a new pattern of the industry is emerging.

In the face of the new industry structure, there are views that due to the excessive number of brands entering the market and the impact of China's auto parts terminals not as vehicle owners but as maintenance factories, each brand will be done in the face of interests. This will enable the industry to form a "majority company's annual performance. About 30 million, a small number of enterprises in the performance of 2-3 billion on the pattern. However, there are also views that few companies in the ever-expanding market scale can claim to occupy more than 10% of the market, which means that companies with strength and potential in the industry reshuffle will have a huge market space, according to In terms of market demand for 1.2 billion in 2018, as long as the sales volume can occupy 1% of the market, the company's annual performance can exceed 100 million yuan. However, according to research reports from research institutions, Leopard King still holds the position of first brand in the automotive aftermarket in China, and other companies with strength and potential, such as Haiye, Fengchi, and scratching, are closely following. This situation also seems to indicate that with the expansion of the market size of the industry, more and more brands of strength and potential will achieve rapid development.

Obviously there are obvious differences between the above two points of view. So who's point of view is closest to reality? This can only be answered after waiting for the industry to reshuffle. However, in the context of rapid growth in the size of the industry's market, improving product quality and shaping corporate brand influence is the key to winning the market.

This Napkin Fork is perfect for fast paced food, on the go meals, dinner party,wedding ceremonies, birthday parties, restaurants, hotels or snacks. Clean and hygienic for each set with individual packing and napkin. The disposable Fork set can be packed by customers' requirement as OPP bag with printing or without printing.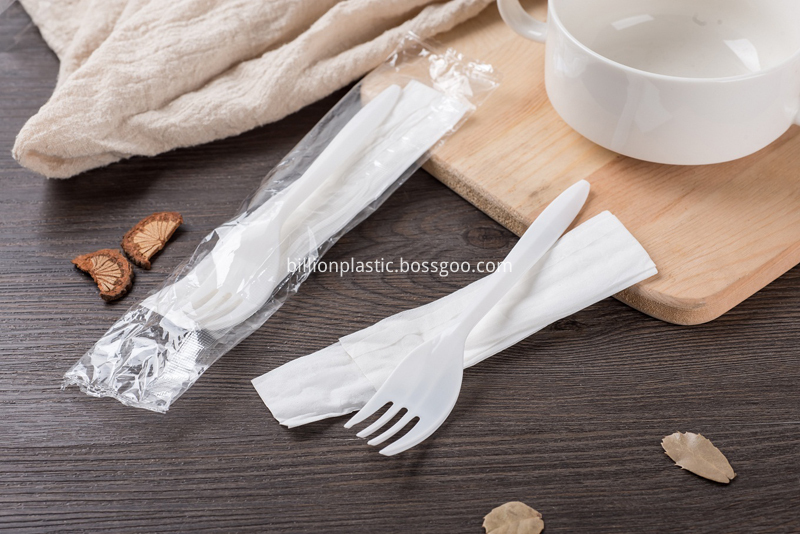 Plastic Fork,Plastic Napkin Fork,Compostable Forks, Plastic Cutlery,Fork Spoon

BILLION PLASTIC MANUFACTURING CO.,LTD, JIANGMEN , https://www.jmfoodpackagingbag.com